How can we help you?
Here in our Help Center you will find all general answers to questions about billing, admin panel, product and much more.
Administration / Admin Panel
/
Mailcenter
/
General email information
Sending emails
The e-mails are sent with the help of our partner SendGrid. SendGrid is the leading mailer for software companies and is characterized by its data protection compliance and excellent shipment tracking. For more information about SendGrid, visit the SendGrid website.
---
How can it be determined which user receives which e-mails/push?
The sending of system emails can be controlled in the admin panel . To do this, please go to the Admin Panel → Community/Employees and then to User Management . Please click on the three dots to the right of the desired person and select Notifications .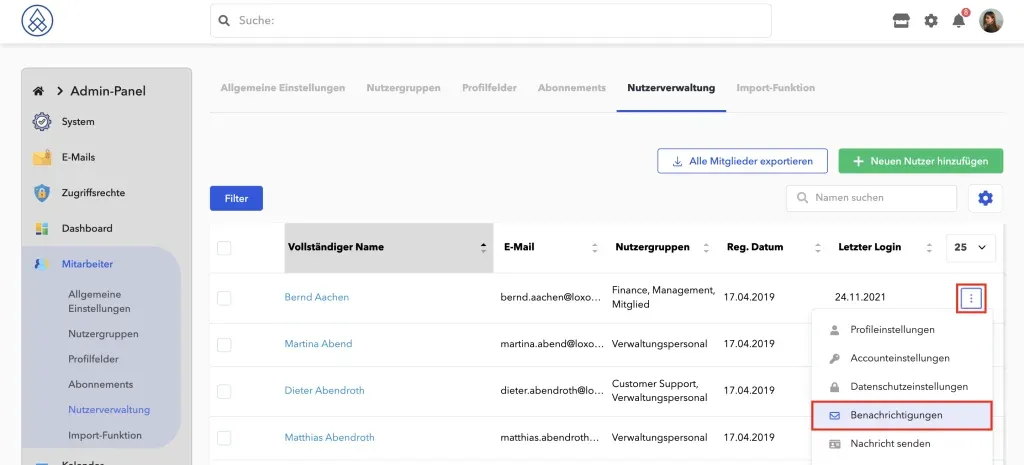 The window displays a list of notifications that you can set up. Don't forget to save.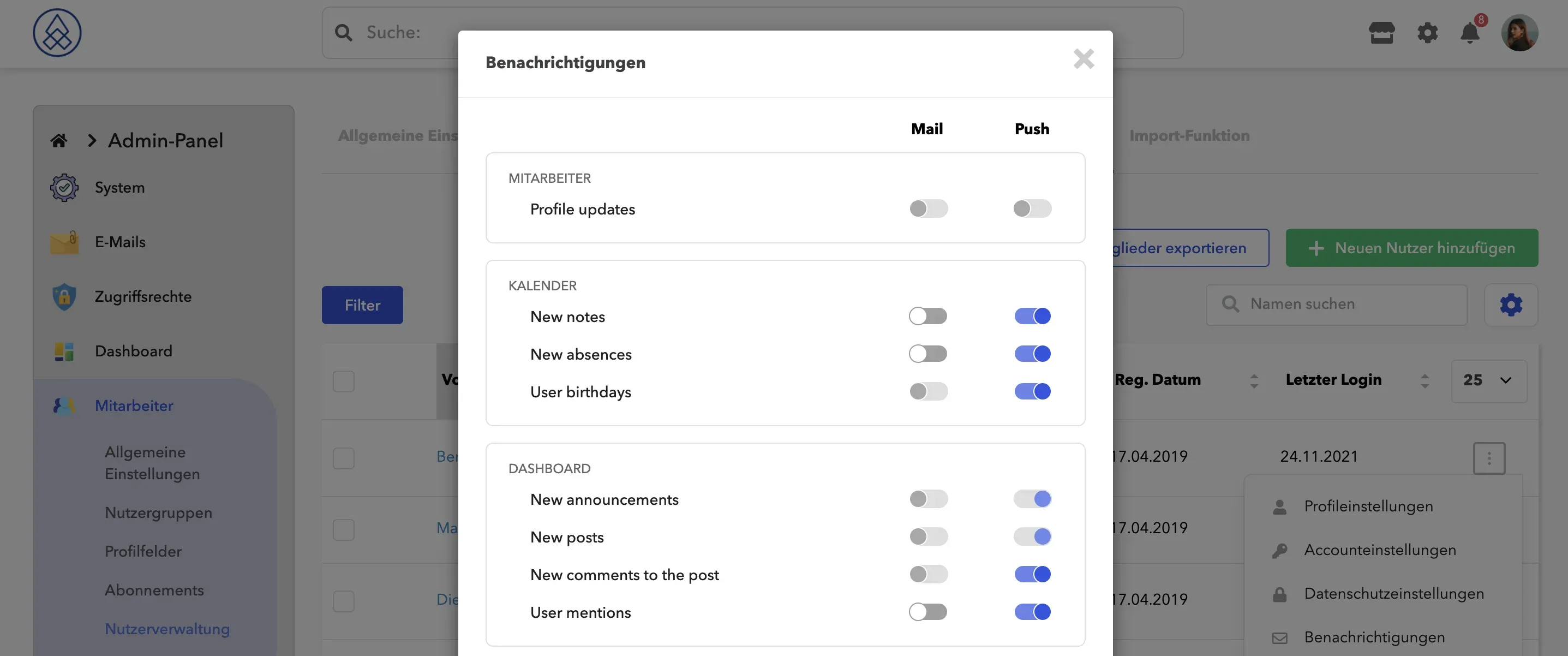 *Note that not all checkboxes can be toggled on and off as this is not intended by the system.
You can also carry out this action for several users/user groups at the same time. Please select the desired persons, scroll down the page and select the desired action. To set the email subscription, please select Change email subscription in the first field . In the second field you set what you want to change. The third field gives you the choice between subscribe and unsubscribe. Don't forget to save by clicking the Ok button .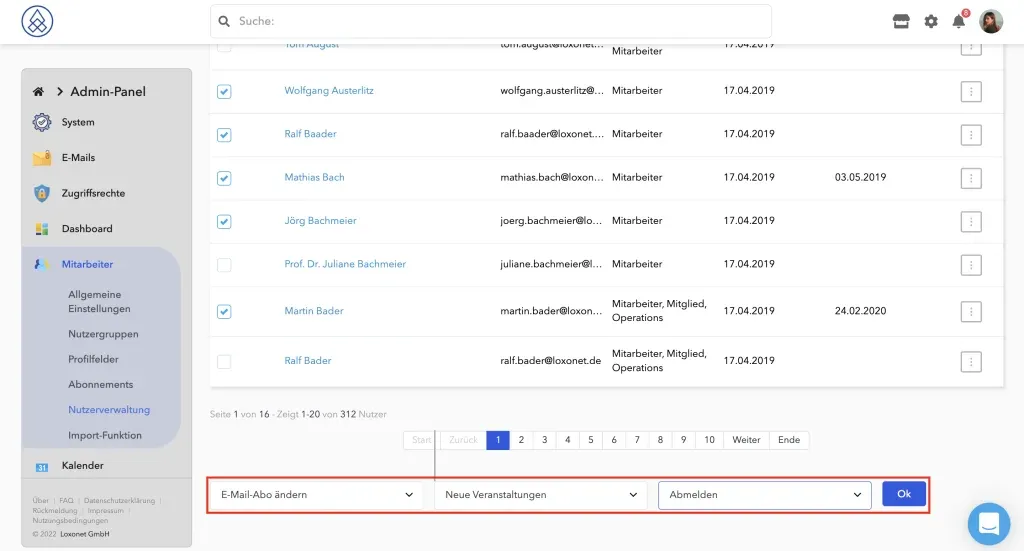 Apart from this global setting option, each user can specify which notifications should be received in their private area under notifications . *If you click the button to the left of Click full name , you can mark all users.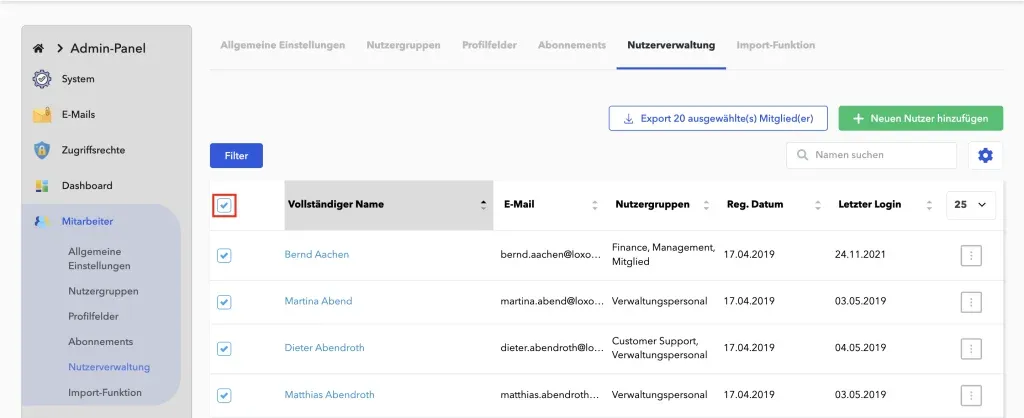 ---
Subscriptions
You can also disable or enable email notifications globally for all users on your platform. To do this, please go to the Admin Pannel → Community/Staff and then Subscriptions .
* Please note that this setting only applies to users who have not yet configured their notification settings
---
What are activity emails? How can these be deactivated/activated?
Our activity emails are designed to increase the interaction rate of your users. These are only sent in the first 30 days to remind users to activate their profile and interact on the social intranet. They are sent when a person has not been on the intranet for a long time. This depends on the last date of login, and these emails are designed to increase user attendance. There is an option to disable such emails. To do this, you need to turn off the Enable activity emails option in Admin Panel → Emails → General Settings .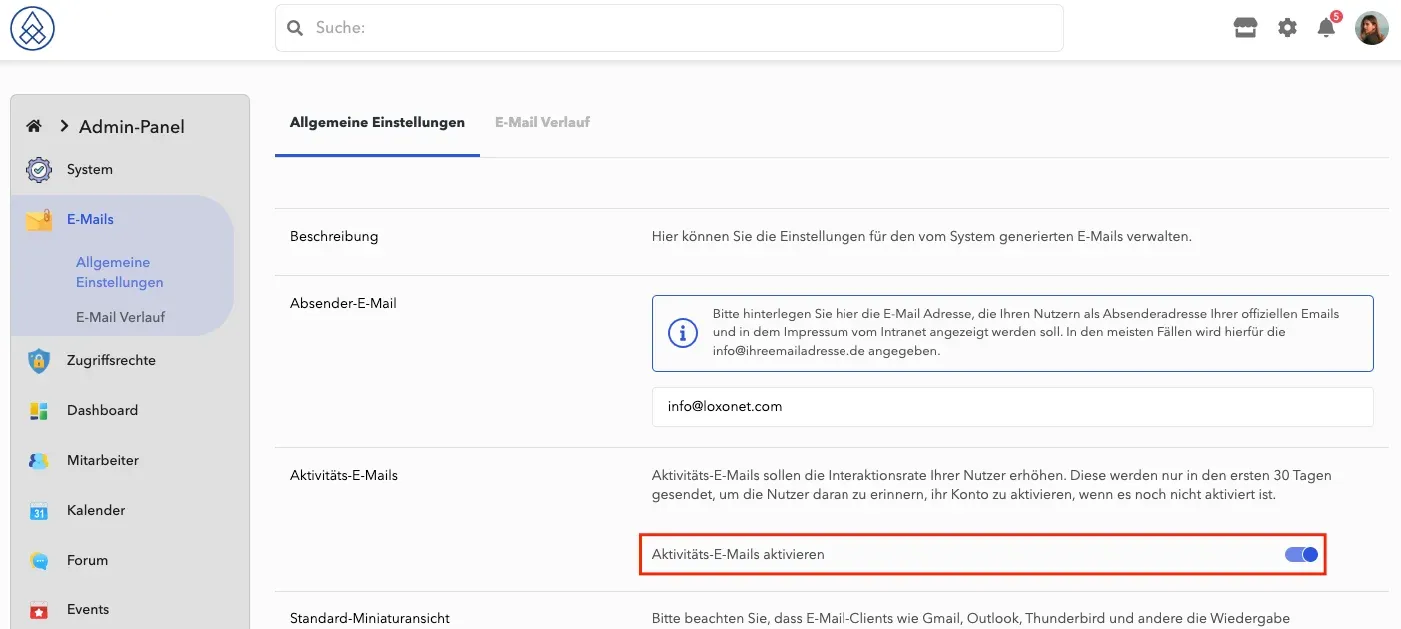 ---
Sender and reply address
The sender and reply address - i.e. the email address from which the automatic system emails are sent and to which the recipient of the Loxonet system emails can/should reply - can be set in the Admin Panel → Emails → General settings are specified.

*It is best to enter either the official e-mail address of your organization (such as info@organisation.de) or the official e-mail address of the person who acts as the main responsible person (administrator).
Why is the sender email marked in red?
This means that the domain of the email address from which system emails are sent is different from your domain.
This can result in emails sent from your system ending up in spam folders.
To avoid this, we recommend changing your email ending to @loxonet.com.
This is not necessary now, you can of course change this e-mail address at any time. This is just a recommendation.
---
System email answers for admins
Where are system emails sent?
All system emails are sent to the email address under which the admin is registered.
What if there are multiple admins, who will receive system emails?
All system emails are sent to all admins.
I performed an action as an administrator to receive a notification, but the notification did not come. Why?
The email doesn't go to the admin who took the action because there's no point in informing them of their actions. Note: Please note that all other administrators will be notified about this.